Now Enjoy Bulk Discounts on Books as Mentioned Below

These Discounts are in addition to the Discounts on Individual Books (Visible as Bulk Discount for Books in Cart)

Extra 10% Off If Books Purchased Exceeds Rs 3000 or 75 USD or 60 GBP or 60 Euro or 100 AUD or 100 CAD
Extra 15% Off If Books Purchased Exceeds Rs 6000 or 150 USD or 120 GBP or 120 Euro or 200 AUD or 200 CAD
Extra 20% Off If Books Purchased Exceeds Rs 15000 or 225 USD or 180 GBP or 180 Euro or 300 AUD or 300 CAD
Extra 25% Off If Books Purchased Exceeds Rs 30000 or 300 USD or 240 GBP or 240 Euro or 400 AUD or 400 CAD
Bhai Guriqbal Singh Ji Books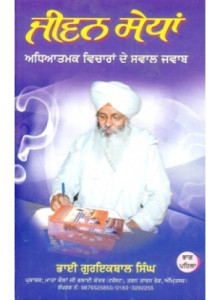 Bhai Guriqbal Singh Ji is oe of the Greatest preachers of Sikhism in the modern times with lakhs of followers and has written several books related to Sikhism highlighting the main values and qualities a Sikh must aspire to achieve in his life. Among his most Popular Books are "Nau Visheshtaian Sri Sukhmani Sahib" in Punjabi , "Sharda Dian Yaaran Nishanian" , "Main Dasio Marag Santoh" and his latest "Jeevan Sedhan". Most of these books also have a English and Hindi translation so that people not well versed in Gurmukhi can also benefit from these excellent resources on Sikhism. The main asset of Guriqbal Singh Ji is the simplicity with which he brings the Values of Sikhism and has thus been able to strike a chord with masses who find his words very easy to understand and hence implement.
He also runs a Charitable Trust by the name of "Mata Kaulan Ji Bhalai Kendar" which indulges in lots of true Sewa Activities.
You will find all books by Bhai Guriqbal Singh Ji on Sikh Gurbani , Gurmat or Sikh Philosophy here.
---
Showing 1 to 18 of 18 (1 Pages)